Lori and I had another GREAT weekend! Even though there was NO snuggling at all. Yes, I know your all shocked we didn't snuggle, but I was still a bit under the weather from what I assume to be eating bad pork chops and Lori's Aunt Flow was visiting this week. Sooooooooo, it was a weekend of not getting dressed, making fresh bread and watching horror movies.
Today, I'm going to tell you about making fresh bread.
Lori brought over her bread machine on Friday and Saturday we made two kinds of bread. This is her bread machine.
First I looked up the bread machine directions and a couple of recipes on the Internet. Then I went shopping for the ingredients we needed while Lori showered. That was the only time either of us was dressed the entire weekend.
The first loaf of bread we made was an "Herb Bread". Well, Lori and the bread machine did everything, I mostly just watched. Doesn't it look good?
HERB BREAD
INGREDIENTS
1 cup warm milk (70 to 80 degrees F)
1 egg
2 tablespoons butter, softened
1/4 cup dried minced onion
2 tablespoons sugar
1 1/2 teaspoons salt
2 tablespoons dried parsley flakes
1 teaspoon dried oregano
3 1/2 cups bread flour
2 teaspoons active dry yeast (Rapid Rise Yeast if available)
DIRECTIONS
In a bread machine pan, place all ingredients in order suggested by manufacturer. Ingredients are for Large Loaf (about 1.5 lbs.). Select basic bread setting. Choose crust color and loaf size if available. Bakes according to bread machine directions (check dough after 5 minutes of mixing; add 1 to 2 tablespoons water or flour if needed).
Lori changed the ingredients a little. She added 1 teaspoon of Italian Seasoning instead of the oregano. I'd set the crust for Light and Lori thinks maybe add more Italian Seasoning, but if you don't, you will still enjoy it very much. It was very tasty and I recommend it.
I never saw bread that was made like this before. I couldn't believe how large a loaf it made.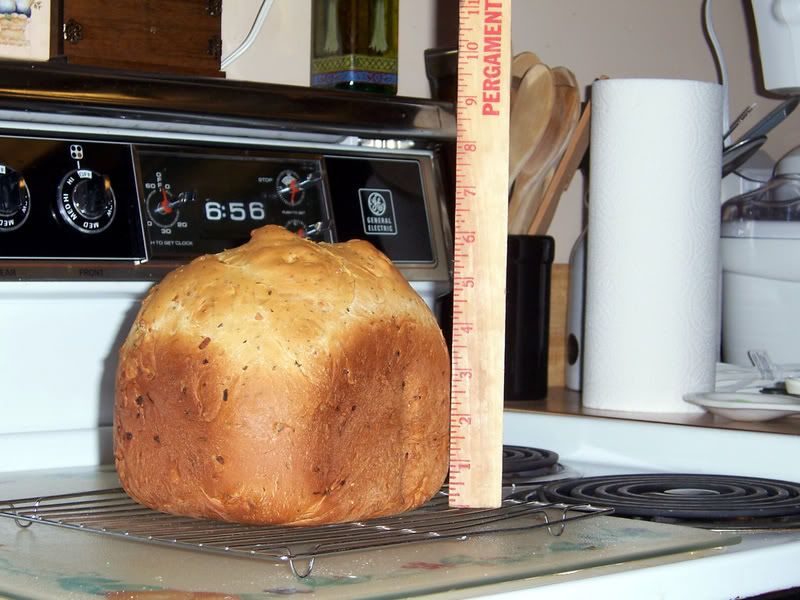 Look how different it looks from the potato bread I normally eat.
We had the bread that night with dinner, I made a meatloaf. I used a meatloaf mix (beef, pork and veal combo) for the meatloaf and made peas and scalloped potatoes.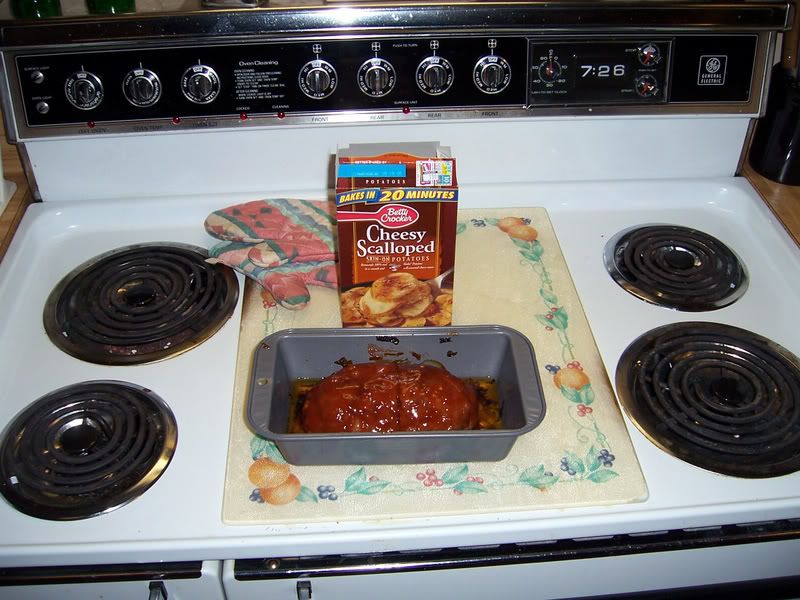 I mixed the meatloaf mix with an onion soup mix, bread crumbs, and a egg for the meatloaf and mixed BBQ sauce and Saucy Susan for a glaze. The meatloaf was excellent if I do say so myself!
We liked the way the bread turned out so much, we decided to make an "English Muffin Bread" for Sunday morning breakfast. The machine has a timer option. We set it for when we thought we would want to eat and the machine turns on and had it ready when we got up.
English Muffin Bread (For Bread Machines)
Recipe By: The Bread Machine Cookbook by Donna German
1 ¼ C Water
2 Tsp. Sugar
1 Tsp. Salt
¼ Tsp. Baking Soda
3 C Bread Flour
3 TBS Nonfat Dry Milk
2 ¼ Tsp. Yeast (Rapid Rise Yeast if available)
Note: Ingredients are for Large Loaf (about 1.5 lbs.), adjust # of servings for Medium or Small loaf. Put all ingredients in machine in the order suggested by your machine's manufacturer and fire it up on the regular bread cycle. The top of the loaf should come out sunken, this is normal. The texture and taste is just like English Muffins, this is GREAT for toasting!
I didn't take any pictures of that one, but take it from me, it looked good and was excellent as well.
Lori left the bread machine here so we can make more when we feel like it. I had no idea I was so easy to make fresh bread. If I had known, I would have bought one of these bread machine years ago. I LOVE, JUST LOVE BREAD! I can't wait to try more bread recipes.